Welcome to Rin's Sweet Shop! I am here to help you satisfy your cravings! Please let me know how I may help you.
Please make sure you have read and understood my policies as I will hold you to them, even if you haven't. My policies apply to all transactions.
Shopping Service
Shopping service set up to direct-buy Hawaii-exclusive and Asian items. Also provided to direct-buy from
Q-pot
lolita store and anime/manga items as well as Hawaiian or Japanese pop/Sanrio/yukata or kimono fabric. I also shop for kawaii and Victorian stationery, sticker packs, iwako food erasers, magazines, etc.
Click here
to find my shopping service information.
I also have an ordering service for doujinshi, nendoroids, pullips, and other items shippable from merchants. You may
click here
to find out more details.
I will host a proxy buyer service upon request. Please inquire if needed.
AM ABLE TO PROVIDE SHOPPING SERVICE FOR ONLINE JAPANESE SHOPS AND SOME AUCTIONS (including lolita, visual kei, and Mandarake).
Selling
I will be listing closet-cleaning items, normally of Goth, Lolita, Punk, anime, and manga variety. Everything will be either new or in good used condition and clean. All items described as best as possible. Everything is in storage away from animals and smoke.
[
The Nitty Gritty
]
Holds
I can do holds so long as you give me a reasonable time table for when you think you can pay. If there are other requests for the same item, holds will be only for 3 days unless we work something out. Non-response from you during that period of time means the hold ends. If the same thing happens repeatedly, I may revoke hold privileges. There is a 20% non-refundable deposit for holds.

Payments
Paypal or bank/wire transfer preferred. Buyer covers all fees.
Payments accepted as Paypal, bank/wire transfer, money order, cashier's cheque, or well-disguised cash at your own risk.
Snail mail payments are recommended to be sent with tracking and/or certification. It is not required, but I will not be responsible for lost or delayed payments. A note decribing what the payment is for is required.

Any snail mail payment MUST arrive within 5 business days (domestic), 10 business days (international). Any longer and the transaction will be canceled UNLESS you have provided me a tracking number for the envelope. Any delayed or lost envelopes are not my responsibility and wholly at your own risk.

If there are delays and I receive payment after the deadline, I will check the postmark date on the envelope as well as the drafting date of any cheques or money orders. If there are discrepancies between what you have stated and the payment receipt time, I will automatically send it back. If not, I may consider allowing the transaction to continue. I must do this because I have had issues with this before with delays caused by the sender.

Cheques and money orders are subject to a 10 business day waiting period (2 weeks). Any fees for a check or money order processing issue/bounced/rejected must be paid by you and the replacement payment must be sent as well. If you decide not to do this, your item is forfeit and negative feedback will be left. I'm pretty lenient and am usually willing to work things out. You will be given fair warning if a situation arises.

Paypal payments may be sent as personal gift/money forwarding with the fee covered by you or you can send the payment the regular way with the fee added into the price. Fees may be calculated

here

. Usually they will be 5% of the total order. Cross-border transactions garner a higher fee.

I will accept payment in US dollar, Euro, British Pound Sterling, and Japanese Yen through Paypal only. US dollar payment via snail mail and wire transfer only.

Shipping
I will always do my best to find the cheapest, fastest method possible. International shipping rates may not be accurate at time of shipping due to Postal judgment on package shippability. If the shipping ends up being more, I'll let you know.

Standard Domestic Shipping
Usually $1.50-$4.50 for First Class, items less than 13 ounces.
Standard addition is $0.50-$1 per additional small item.
Clothing items may be $5+ more per item depending on weight.
Items over 13 ounces will automatically be considered for Priority Flat Rate, Media Mail, or Parcel Post.
Media Mail and Parcel Post can be very slow.
Insurance is optional on all domestic shipping, certified only for First Class parcels under 1/4" in thickness.
Tracking is $0.25 for all first class items, free for all other shippping options.
Domestic insurance - $1.95 and up
Registered: $11.75 and up

International Shipping
May be $0.25+ more than domestic from First Class up.
Packaging charges will apply, usually not more than $1 for small parcels.
Insurance and tracking is only available for the EMS option and some Priority Mail options.
Limited insurance/indemnity available for all shipping options. Tracking free with EMS and some Priority Mail.
Registered is possible for all international parcels.
Very basic tracking (delivery at sending post office, in-transit, delivery at receiving country) free for all packages.
All extras must be requested.

I've never run into a problem with missing or damaged packaging, but there is always a first time.
I do my best to package items with padding and hard sides if necessary.
I try my best to ship within 24 hours of receipt of payment and will send notification as well as an estimated time of arrival as soon as I do.
International parcels can only be shipped during post office hours unless the item is being shipped via Priority or EMS or as First Class letter.
I will let you know if I cannot ship within 24 hours and when I will next be able to.
Tracking numbers will be forwarded along with confirmation of shipment if applicable.
I am not responsible for a package once it leaves my hands.


Extras
If needed, I can work on a payment plan, holding the items until everything is paid up. All payment dates must be pre-set and paid in a timely manner. If it's an ordering or shopping service situation, it would depend on the items and my current funding situation. I would request at least 50%-75% before picking an item up, otherwise I would most likely request at least two payments before going out an purchasing an item unless it was a rare or exclusive item at risk of being out of stock. This would be a case-by-case basis. I'm pretty easy going though.

In-store holds require a non-refundable 50% deposit or full pre-payment before I will place a hold. In-store holds are only for 24 hours so this rule is firm. In case of a deposit, the remainder must be paid within 48 hours of pick-up.
Full pre-payment is required for ALL snail mail payments. No exceptions.

Refunds given only if item requested is out of stock. The option to rain check/hold payment until item becomes available is open. I will normally only do this if the item is expected back in stock.
Items can only be exchanged for the same item at the store. No refunds. Last minute changes to order based on color or design of item MUST be placed before item is picked up or held. Few exceptions may be made for items on hold.

I reserve the right to refuse service at my own discretion.

FEEDBACK
You can find my feedback here. If you have any problems, please contact me before leaving feedback so we can work it out. I will do my best to help you. I want you to have a good experience. I now require feedback links from everyone unless we have completed a transaction together.

Feel free to email or PM me with any questions you might have.

BLACKLIST
Unfortunately I have had to add a blacklist due to severe problems. I am incredibly lenient but if I run into a user who is belligerent and/or a repeat problem person, I will utilise the blacklist. Please be sure to check it if you are a proxy-buyer to make sure you aren't going to be dealing with the same people.

I reserve the right to refuse service for any reason.
You may leave shopping service requests here using the order form below.
*local tax is approximately 5%

Name: [optional]
Item(s) wanted:
Estimated total cost including tax:
Ship-to Zipcode/Country Code:
Shipping preference: [optional]
Feedback Link:

If you have any questions, you can always email me here:
empressrini@gmail.com
.
Please leave feedback here.
If you have any problems, please contact me first so I can try to help you out. Thank you!
Comments by be left using a Livejournal account or by logging in using
Facebook, Twitter, Dreamwidth or
OpenID (
Google, Gmail
Tumblr, personal site, etc.)
+128 | 0 | -0


[ Not all transactions have feedback recorded. ]
eglfeedback
>>

here

+132 | 0 | -0
gsj_feedbacks
>>

here

+13
-0
eBay feedback
>>
here
+293
| -0
fxc_feedback
>>
here
+1
0 | -0
Laundromatic.net >> +75
0 | -0
closed site, feedback counts on estimate)
gothicauctions.com >> +165
0 | -0
closed site, feedback counts on estimate)
gothauctions.com >> +365
0 | -0
purged account, feedback counts on estimate)
shazamsales
feedback
>> +4 | 0 | -0
ree_rhea
's eglfeedback >>
here
+5 | 0 | -0
I do shopping orders for anything and everything from or related to Hawaii or the Asian goods market we have here including Hawaii-exclusive releases. Sometimes I can order Korean and Japanese goods from the home country, but I'd have to put in a request to have it ordered. A non-refundable deposit is required for all orders and holds. All items are subject to availability. Refunds will be given only in the event of an unavailable item.

I require a feedback link from everyone unless we have completed a transaction before.

I also have access to a wide range of fabric wholesalers and can purchase Hawaiian prints, Japanese prints, yukata, kimono, obi, batiks and silks, Victorian, and Asian pop fabrics as well as licensed fabrics like Hello Kitty and Precious Moments. All are subject to availability.

Be sure to read my full list of policies. I will hold you to them, even if you decide not to read through. I reserve the right to change policy at any time, but I will notify you if I need to and we are in a transaction. If you change your mind about something, let me know, even if you no longer wish to make a purchase. I expect responses within 24-48 hours unless other arrangements have been made. Thank you.

Shopping List
Q-pot
sweet lolita jewelry shop
Anteprima/Wirebag
So Good Jewelry
princess jewelry shop
Toys n Joys
anime and manga shop [carries anime plushies!]
The Face Shop [Korean makeup/skin care shop]
Forever 21 - flagship store
Louis Vuitton - flagship store
Victoria's Secret - flagship store
88 Tees/Spark/Spiral Girl (Japanese vintage and tee shops, Shibuya 105 shop)
Hawaiian/Japanese/Sanrio/Kawaii fabric

[let me know general color/style if you're not 100% sure]


Kawaii stationery, sticker packs, and food erasers
Hawaii exclusive items and releases
Anime and manga/manwha [original language and translated]
Anime figures and plushies, some cosplay accessories and outfits
Re-ment and iwako erasers
Asian CDs and dramas
Asian snacks and crackseed
Teddy Bear World [Korean handmade bear factory]
Sanrio, San-X, and Hello Kitty merchandise or something
Asian and otaku magazines and mooks [new and used]
Japanese, Chinese, Korean language books
Asian Makeup [i.e. Shiseido, Palty, Dolly Wink, The Face Shop, etc.]
Fabric, lace, fringes, notions at wholesale and market price


[Oriental fabrics --cottons, brocades, silks, yukata/kimono, Asian novelty, Lolita, Hawaiian, Batik, faux/monster fur, canvas, Precious Moments, Hello Kitty, etc]


others on request

[i.e. Louis Vuitton, Tokidoki, etc. special releases]


Military and tactical surplus

Shopping Orders >> clothing, doujinshi, artbooks, nendoroids, Japanese manga, pullip dolls, superdolfie parts, CDs, DVDs, magazines, figures, etc [all on availability] from Japan. I will also purchase from Mandarake.
Mandarake order information here
.
(
Read more...
Collapse
)
Request Form
You don't have to use this, but it would help me out if you used the request form below.
*Local/Japan tax is approximately 5% (applicable only for shopping service orders)
Name: [optional]
Item(s) wanted:
Estimated total cost including tax (+5% US tax or +8% JP tax): [Only if known or needed]
Ship-to Zipcode/Country Code:
Shipping preference: [optional]
Payment Type:
Feedback Link:
Feedback
My feedback post is

here

. If you ever run into problems, let me know before posting feedback so I can try to work everything out. I want this to be a good experience for you.

Contact
Feel free to
email
or
PM
me with any questions you might have.
I reserve the right to refuse service for any reason.
♥

~ Updated :: 2013.08.25~

♥
This the the product availability page for Q-pot Ala Moana (Hawai'i).
The product range is ever-cycling and the full range of non-exclusive availability may be viewed at
Q-pot Island
.
Available items may be purchased or requested through my
shopping service
. I may also buy from Japan.
Discontinued items will be unlikely to be purchasable but may be requested upon.
☺☻
Q-POT HAWAII AND THE USA OLINE SHOP WILL BE CLOSING AUGUST 31, 2013. ALL FURTHER SALES WILL BE SHIPPED FROM JAPAN!
☻☺
Click to see all available items!
Quick Virtual Tour >> [
front parlor
] [
parlor aisle
] [
dark chocolate lounge
] [
silver chandelier
]
Aloha~♫
Here are some of the Hawaii-exclusive releases.
~
(
Come satisfy your sweet tooth!
Collapse
)
My friend in Japan is moving at the end of July. These doujinshi and clothes need to be gone by mid-July at the latest or they will be disposed of! Make me an offer! All sales will go through me.
Some of these doujinshi have been scanned and may show some wear in the spine. Most of these are brand new. All doujinshi are B5 size.
(
Naruto doujinshi and Lala drama CD
Collapse
)
(
Angelic Pretty dresses
Collapse
)
Over 100 discs with multiple genres. I'm trying to get it up on eBay. Help me by taking it all away!
(
So many CDs and some DVDs
Collapse
)
MASSIVE CD sale. Make me offers! I want it ALL gone! Almost all of them have been played only once or not at all. Featuring tons of not-for-sale promo CDs. A bunch are from a sampling sound lab so may have the original sticker on the case and notations on the booklets but the CDs themselves are all in perfect shape. No cracks or scratches to any discs! Lots of Japanese import versions!
* Christmas is coming! Be prepared with some sweet and sparkly treats! *
☺☻LIMITED EDITION 2013 CHRISTMAS ITEMS AVAILABLE ONLY FOR THE NEXT 2 MONTHS! ☻☺
Click to see all available items!
I had a shopping service for
Q-pot
in Hawaii before it closed. I am still able to purchase items from the Q-pot and other brand online shops or physical stores. Please feel free to contact me if there's any way I can help you out. For any item that you don't know the price for, I would be glad to find that out so don't be afraid to ask! :)
A semi-continuously updated list of what is in stock appears on the official
Q-pot site
with some special/limited/seasonal items appearing or remaining in physical stores. I will try to keep special/seasonal release in-stock update listing on my page as well. I will be updating with the newer additions as they come in. There are sometimes items available that do not appear on either official page so if you have heard about it, you can always ask and I will check for you!

I can also check on auction sites; acceptance at my own discretion.
My friend and shopping partner now lives closer to Osaka and Kobe and she conducts shopping trips every weekend. She goes through Sannomiya every day on the way home. We can buy almost anything from Sannomiya/Osaka/Kobe shops or online shops! Just ask!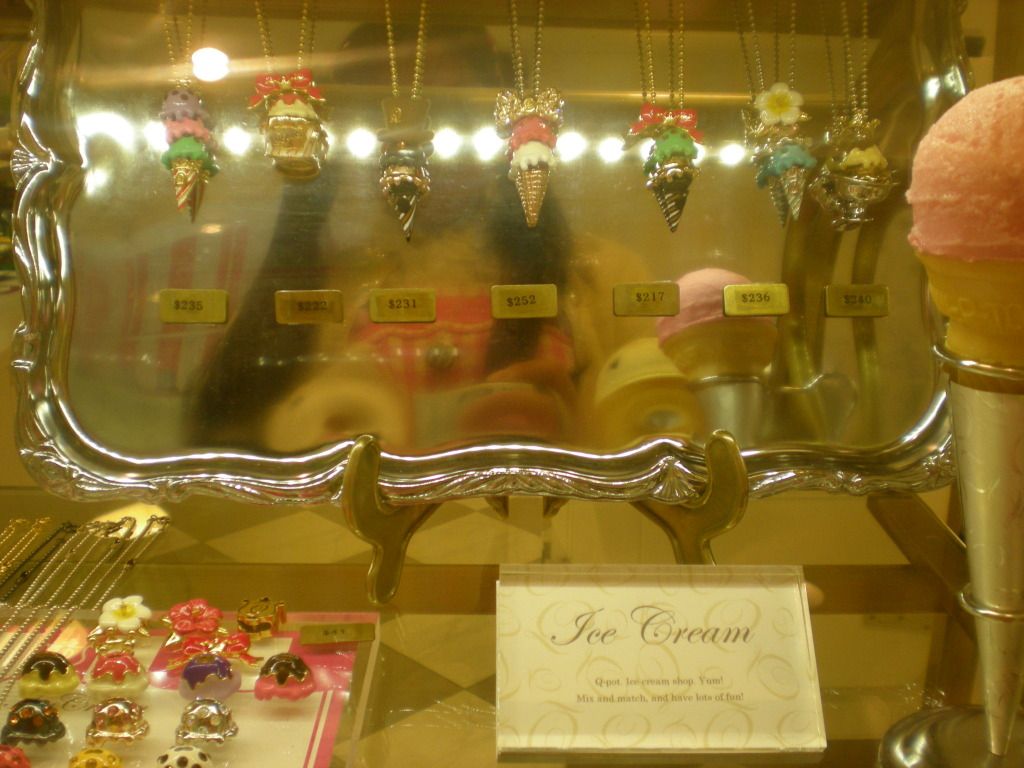 Some toppings were limited Hawaii releases and are no longer available. Ice cream is a summer seasonal special. All necklace accessories can be mixed and matched.
Partial list of availability here.
HAVE A MAGICAL HOLIDAY SEASON!




HAWAII/US COMMISSION RATE
15% of total cost or $3 (whichever is higher) + $2.50 transport fee
+ shipping if applicable
+Paypal fee: 3% + $0.35 (US), 4% + $0.35 (worldwide)
Hawaii tax: 5%
Transport fee is one-time for each store visit and covers 35-50% of the transportation cost.
This rate applies to US domestic purchases only.


JAPAN COMMISSION RATE
Item cost: ¥0 - ¥1000 = + ¥300 commission
Item cost:¥1001 - ¥3500 = + ¥500 commission
Item cost:¥3501 + = 15% commission
+¥300 transport fee (Osaka/Kobe) OR domestic shipping (online stores)
+ Paypal fees: 3% + ¥45 (US), 4% + ¥45 (worldwide)
Shipping from Japan based on weight.
Japan tax: 5%
Transport fee is a one-time fee per order and covers 30%-50% of the transportation cost.
*May convert to US dollars upon request. Rates subject to change*

Proxy Online Buying Service
Proxy bidding: $3 for a single item/bid (no stalking needed), +15% for multiple items
Proxy bidding: Yahoo!Japan ~ standard Japan commission rate applies + any Y!J fees (Y!J commission)
Proxy bidding: mbok ~ standard Japan commission rate applies + any mbok fees (¥315 + mbok commission)
Proxy shopping: $5 per item (bulk rate may apply for small items on the same site), +10% if order per shop exceeds 5 items or needs to be signed for.
Paypal fee: 3% + $0.35 (US), 4% + $0.35 OR 3% + ¥45 (US), 4% + ¥45 (worldwide)
Will show proof of items and forward all tracking and shipping confirmations from the stores or sellers upon request.
Will hold items until buyer decides to have them forwarded.
All costs are the buyer's responsibility.


*Y!Japan: There is a commission charge stacked onto the total of the auction as charged by Y!Japan.
**mbok: There is a non-refundable charge of ¥315 which is needed to bid in the system to begin with and then after that will be standard bidding processes. Buyer pays the premium so the commission mbok charges is added to the cost after the auction is won and not taken out of the total that was bid on like eBay does. There is also a fee that is charged for paying for the item.*
~Fabrics, Trims, Etc.~
Some swatches
here
. Subject to availability. Average price: $5-$9/yard for fabric (some may be more)
Fabric shopping service fees and swatches
CRAFTERS/SEAMSTRESSES COMMISSION RATE
$3.50/yard for cottons and cotton blends (i.e. quilter's cotton, batiks, muslin)
$5.50/yard for all other fabrics (i.e. brocade, faux fur, polyvinyl, etc.) due to weight and bulk
$1.50/ea trims and notions regardless of length
*tasseled/bulky pieces may be more*
$1 each patterns set
I
may
offer a discount for full-bolt purchases, but only if I am able to get one from my suppliers. I would charge regular rate and apply the discount as a refund after.
Special imports and orders may be requested: Please supply swatch and/or brand, name of print, and any other information if possible.
Kimono fabrics and imports of brands such as Cosmo Textiles may start at $15/yard up to $55/yard retail if not available through wholesale.
5% tax + necessary Paypal charges apply
Super cute and delicious cupcake fabric swatches have been added!
Payment
All payment types accepted, Paypal preferred. Bank/wire transfer may also be accepted.
All fees must be covered by buyer. Euro, British Pound Sterling, Yen, Australian Dollar, and US Dollar are accepted through Paypal, US dollar and Japanese yen preferred.
Cash and money order/cashier's cheques will be accepted and are sent at the seller's own risk. Tracking or certification on the envelope is recommended. All money orders and cashier's cheques are subject to a 7-10 business day hold.


All store-holds require a non-refundable 50% deposit.
All online orders require 100% pre-payment before the order will be placed.
Additional shipping charges will be assessed after order has been finalized if parcel exceeds shipping estimate if given.
Shipping from Hawaii will be via First Class unless otherwise requested or if items exceed 13oz/369g, free tracking and insurance up to $50 included for priority mail.
Tracking is free worldwide for all parcels shipping from the US. Comprehensive tracking costs more and automatically includes some insurance.

Shipping options will be given for EMS, Airmail, SAL, and Surface Mail for items shipped from Japan.
EMS comes with tracking. SAL may be registered for parcels up to 2kg.
Packaging fees may apply to cover cost of shipping materials.
Request Form
Name: [optional]
Item(s) wanted:
Estimated total cost including tax (+5% for tax): [Only if known]
Ship-to Zipcode/Country Code:
Shipping preference: [optional]
Payment Type:
Feedback Link:
*Japan and Hawaii both have 5% tax
You can contact me through
PM
or
email
as well.
eglfeedback
is
here and here
.
reference page for feedback purposes
here
.
Unsorted stuff. You can make an offer